This is my first lesson
in Juelles Web Design on 'Color Co-ordination'.
I have chosen to use a patterned background,
with a soft texture for the main background color.

Below are the colors which I have picked from my graphic.

1--#cdd9e8
2--#84a2c5
3--#a2c2eb
4--#687fa1
5--#0d2e63

The first color I used for my main background color,
with a gentle texture effect.
Colors #2, #3, and #4 were used in the framing of my graphic, and for the logo.
The fifth color is the one I have chosen for my text.

Font used is Comic Sans MS.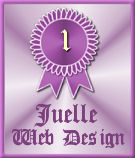 ©Vision Designs